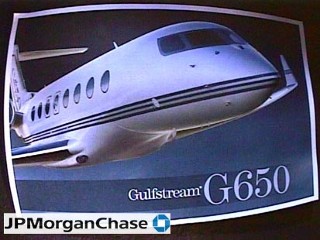 After receiving $25 billion from the "government",
JP Morgan Chase
is intending to spend around $120 million for two Gulfstream 650 private jets, and $18 million for a lavish renovation of a hangar at the Westchester Airport outside New York City. The Gulfstream 650's are described by the manufacturer as the "fastest, widest and most comfortable private jets with superior cabin amenities."
While the masses are reduced to a state of serfdom their arrogant feudal overlords impudently aggrandize themselves with unbelievable unearned wealth. As JP Morgan Chairman Mr. James L. Dimon remarks: "When I hear the constant vilification of corporate America personally I don't understand it." Nor would he understand the dethronement of the extortionate and corrupt nobility and clergy during the French Revolution either.